Meet Our Team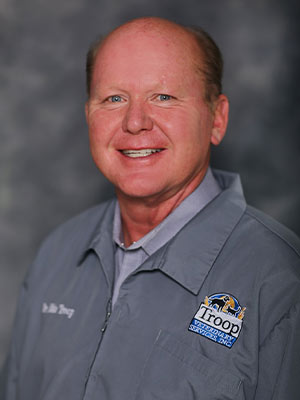 Dr. Mike Troop
Dr. Troop graduated in 1987 from the University of Illinois College of Veterinary Medicine. He has been serving the Southern Illinois community as a veterinarian for over 34 years. Dr. Troop loves the challenges his job provides, developing long-term relationships with his clients, and loving and caring for their pets. Dr. Troop and his wife, Debra, are the proud parents of two sons - Stephen is in his second year of medical school at SIU - Jonathan is currently serving on active duty in the United States Army. They also have four amazing dogs: Kimber, Reagan, Smitty, and Lucky Dog. Dr. Troop enjoys serving in his church, traveling with his family, hunting, and spending time on his farm.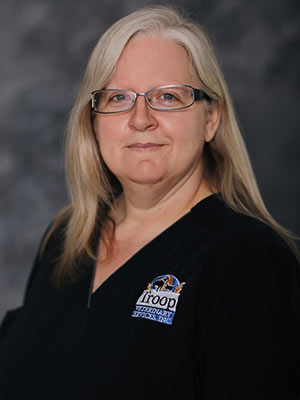 Dr. LeeAnn Greenwell
Dr. Greenwell is a 1995 graduate of Auburn University College of Veterinary Medicine. She has been a full-time veterinarian with Troop Veterinary Services for 3-1/2 years. Prior to coming to Troop Veterinary Services, Dr. Greenwell served as the Program Director for the SICCM Veterinary Technology Program for 9 years. She is passionate about connecting with clients and educating them in the care of their pets. Dr. Greenwell shares her home with "Grant", "Grace", "Biddy", and the rest of her cat family! Her hobbies include knitting, sewing, attending comedy shows, and working with animal rescue organizations.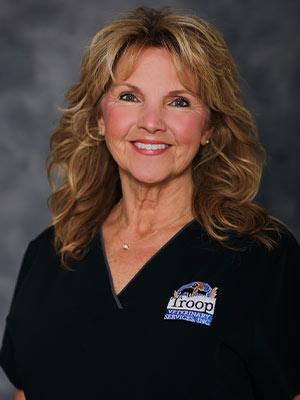 Debra Troop
Hospital Manager
Debra has been a part of the Southern Illinois veterinary community since 1992 when she married her husband, Mike. She graduated from SIU with a bachelor's degree in Accounting and has used her education to manage their veterinary practices for the last 29 years. Prior to being a full-time hospital manager, Debra homeschooled their two sons, Stephen and Jonathan. Their sons grew up helping their dad in the veterinary clinic with late night emergencies, assisting in surgeries, and cleaning cages. Debra enjoys working with her husband and the entire team at Troop Veterinary Services. The clients she has met over the years have become part of her extended family. Debra loves being outdoors, traveling, walking, hosting Bible Study in their home, and spending time with family.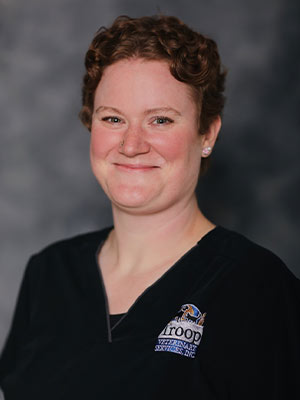 Sarah Underhill
CVT
Sarah is a full-time Certified Veterinary Technician. She graduated from SICCM in 2014 with a degree in Associates and Applied Science/Veterinary Technology. She has been with Troop Veterinary Services for 9 years! Sarah is passionate about caring for our clients' pets, specifically dental health. She and her husband, Zac, share their home with their 3 dogs – Cassie, Chulin, and Julien; 3 cats – Vickie, Norah, and Carmen – 2 ferrets – Tina and Lois, and Patrice their cockatiel. Sarah enjoys watching hockey and scary movies, taking care of her house plants, and yoga.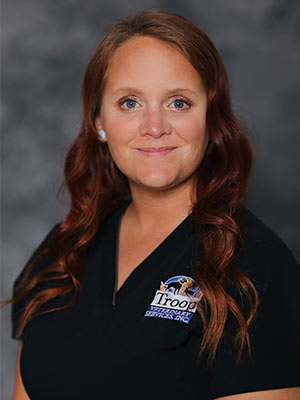 Cassie Ince
CVT
Cassie is a part-time Certified Veterinary Technician who graduated from the Hickey College Vet Tech Institute in 2011. Her 12 years of experience have brought a lot of knowledge to our team! Cassie and her husband, Travis, have 4 children: Trinity, Owen, Leo, and Nora. They also share their home with 5 dogs – Oakley, Pepa, Zero, Cora and Marci and Tokka, their pet turtle. Cassie enjoys educating our clients in the care of their pets and assisting in surgery. Her time away from work is spent attending her children's sporting events, watching true crime and paranormal documentaries, and collecting rare comic store finds with her husband. Paula Wells
Veterinary Assistant
Paula serves as a full-time veterinary assistant with over 4 years of experience. She and her husband, Junior, have 4 children and 8 grandchildren. Paula loves working as a team member in caring for our clients' pets. Watching the sick pets return to health and go home to their families gives her a great deal of satisfaction. She also enjoys the variety of dogs and cats that visit our hospital every day. Paula likes fishing, gardening, the hummingbirds that visit her every summer, and spending time with her family!